I haven't really participated in Fadra's Stream of Consciousness Sunday for a while. I hadn't really had the time; I was dealing with sick family members, not feeling totally myself, and quite honestly, just didn't feel like it. This weekend has been the first weekend in which there are no obligations, no kid and no plans. As I found myself aimlessly wandering not sure what to do with all of this free time I started to feel overwhelmed. I have plenty I *could* be doing but as I looked upon the piles of laundry to be folded, the dishes to be washed, the weeds to be pulled I found myself getting that sinking feeling that comes with that overwhelming feeling of helplessness. Putzing around on Twitter I came across Fadra's prompt and felt the urge to type.
Once again I thinnk we are connected. Once again this is totally taking more than five minutes and I find myself wanting to share this answer to the prompt below:
Today's Writing Prompt:
What feels overwhelming to you right now and how are you coping?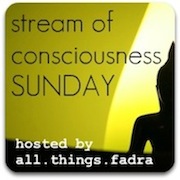 I watched Friends with Money last night and found myself hating all of the characters but sorta relationg a bit to the Frances McDormand character, Jane. Oh Jane is just miserable and spreading her bile around her. Jane is angry, oh so angry and she can't even express why she feels this way. Nothing makes her see how this behavior is affecting her life, not even when she literally breaks her nose walking into a plate glass door does she get it.
When her husband, Aaron, asks her what the problem is this exchange happens:
From
Friends with Money
(2006)
Jane
: I'm just tired.
Aaron
: Of what?
Jane
: I just, guess I feel there's no more wondering what's it gonna be like.
Aaron
: Like what's gonna be like?
Jane
: My fabulous life.
I guess I'm feeling a tad like Jane, without the so angry I walk into the door bit. I'm just tired and feeling overwhelmed by everything. The piles of laundry that seem to multiply (my God how does one woman and one girl child produce so much laundry?). The dishes (see above but substitute dishes for laundry). Work, Mom, The Bee. I'm just freakin' done.
I know when I get like this I tend to lash out...my body is taking the brunt of my grumpiness. I binge, I deny, I feel bad. My mental well being is affected...I avoid (sorry A and S for not making it over this weekend), I hide and it seems dark and brutal and hopeless. I feel sluggish, like I have lead weights around my leg and I'm in a pool and even the smallest acts feel like a major thing.
Since I have been blogging and sorta putting all of my business out there for y'all to read, I feel embarrassed to be writing about feeling overwhelmed. Again. Looking through my archives I have previously written about being overwhelmed and junk and well, who wants to read this old chestnut again? I can't lie; I'm down and well, y'all are gonna just have to bare with me while I work through it.
I made a list of everything that has been bothering me, some huge, some not so big, some that only mean
something
to me. It helps to see them on paper because, while numerous, the somethings can get out of my head and when I do something with them I can then cross them off and that little act really means a lot.
The leaden feeling still looms and it may be a few more days until I feel more like myself but its ok. I don't enjoy feeling like this but since I know that I'm feeling the way that I feel I rationalize that its not all bad. There will be a way from under the water and a way to lighten where I am but for now I have my list and that's good enough for now.

This was my Stream of Consciousness Sunday post. It's five-ish minutes of your time and a brain dump. Want to try it? Here are the rules…
Set a timer and write for 5 minutes.

Write an intro to the post if you want but don't edit the post. No proofreading or spellchecking. This is writing in the raw. (See above)

Publish it somewhere. Anywhere. The back door to your blog if you want. But make it accessible.

Add the Stream of Consciousness Sunday badge to your post.

Link up your post on Fadra's site.

Visit your fellow bloggers and show some love.